*grabs each and everyone of you and drags you along in for a creepy dance as the ghost of Kurt Cobain plays lithium*
It's barely 3 months since I started blogging and I already have over 100 Followers! Woohoo!
To thank all my wonderful blogger friends I am having a giveaway!
:)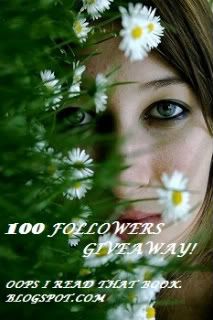 This is my very first giveaway so I hope I am doing everything right and that you guys have fun!! *fingers crossed*
One lucky winner chosen at random will win 3 books

4 BOOKS
of his choice from the selection below!
The giveaway is

INTERNATIONAL

as long as TBD ships to you.
The Summer I Turned Pretty (Summer, #1)
Dreamland
Vicious Little Darlings -
Vicious Little Darlings by Katherine Easer
( My Review)
One Day
Delirium (Delirium, #1)
Divergent (Divergent, #1)
Hush, Hush (Hush, Hush, #1) -
Hush, Hush ( Hush, Hush #1) By Becca Fitzpatrick
( My Review)
Lola and the Boy Next Door
Possession (Possession, #1)
Blood Red Road (Dustlands, #1)
A Long, Long Sleep
The Hunger Games (The Hunger Games, #1) -
The Hunger Games By Suzanne Collins
( My Review)
Ten Things We Did -
Ten Things We Did (and Probably Shouldn't Have) by Sarah Mlynowski
(My Review)
Epic Fail
Vicious Little Darlings
Spellbound -
Spellbound by Cara Lynn Shultz
( My Review)
Siren (Siren, #1) -
Siren ( Siren #1) By Tricia Rayburn
( My Review)
Speak -
Speak By Laurie Halse Anderson
( My Review)
Anna Dressed in Blood (Anna Dressed in Blood, #1)
The Iron King (Iron Fey, #1)
Miss Peregrine's Home for Peculiar Children
Shadow Hills -
SHADOW HILLS BY ANASTASIA HOPCUS
Beastly -
Beastly by Alex Flinn
( My Review)
Sea Change -
Sea Change By Aimee Friedman
( My Review)
Fury (Fury, #1)
-
Fury (The Fury Trilogy #1) by Elizabeth Miles - Book Review
Shatter Me
A Beautiful Dark by Jocelyn Davies
- Book Review
Requirements:
You must be a
GFC Follower
to entry.
(My gfc box is the top left of the blog below the heading Follow The Owl. Once in a blue moon the owl gets lost. That is the gfc box is missing. All you gotta do is refresh the page once or twice and it'll be there!)
You must fill the form.
You don't have to be a blogger to enter.
Extra Entries:
Follow me on twitter +3
Twitter
Follow me on goodreads + 3
Goodreads
Subscribe in a reader or Follow By E-mail +3
Leave a meaningful comment on my book review. +2 per review you leave a comment on.
Here is a list of my
book review
s.
Grab my giveaway button and put it on your sidebar +7
Advertise the giveaway on your blog( posts/sidebar etc) +3
Tweet about this giveaway +2 per tweet
Grab one of my blog buttons and put it on your sidebar +5
Please be honest. I'll be checking . :P
FILL THIS
FORM
TO ENTER.
Giveaway ends on October 30th.
Winner will be announced here and contacted via e-mail and has to contact me within 72 hours or a new winner shall be chosen.
If I get more than 200 followers by the end of this giveaway I might announce a surprise addition to the giveaway! :)
Yay 200 followers crossed! :D
While all books in the list I was offering are personal favorites or on my wishlist I wanna include two books I may not be particularly looking forward to but I know a hell lot of people are!
So the winner will now get

FOUR

books plus I have included two more books to the selection you can choose from!